About Lauren
I have been face painting on the Sunshine Coast, Brisbane, and other places in Australia for over 20 years.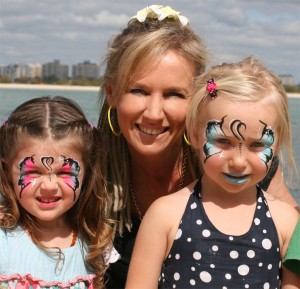 I began as a volunteer with the school at the Gympie Muster, not far from the Sunshine Coast, when my kids were small. I found myself the organiser of the face painting set-up in Kid's Country there each year, and went home wishing I could do more.
My mother and my sister are both very talented artists, and I always wished I could find something I could be as passionate about as them.
As I began researching new, more professional products, booths, etc, I found myself in an incredible, creative industry filled with people of amazing talents, face painting, body artists, and artists of many mediums,  with wealth of knowledge and passion.
Found My Passion!
I then established Cool Faces Face Painting, on the Sunshine Coast and Brisbane, and have not looked back, I had found my passion.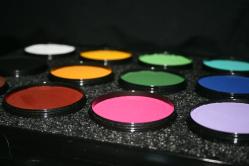 I am in my element when I am being creative, interacting with kids and adults, and always looking for the next challenge.
You are invited to become a fan of our FACEBOOK PAGE to keep you updated with what we are up to and some interesting bits and pieces.
The Team…
My daughters enjoy face painting. Simone and Felicity are both talented artists and face painters, and have enjoyed being a part of this growing industry.
Felicity is very creative and artistic.  Currently studying Journalism at University, she has also established herself as a professional face painter, and is available for all events.
Simone completed her Bachelor of Business, with high distinctions, and travels the world as a Corporate these days, but she still manages to get out the face paints when  its party time.  She is handy when it comes to the business side of … well, business!
My sister Ali is a talented artist in many mediums, and has her Bachelor of Arts degree.  She is also a professional face painter and is continually upgrading her skills with me as we attend workshops and jam sessions together.  She is also employed in the childcare industry, so you know this face painter loves kids and is great with birthday parties.
Bethany, Ali's daughter is a great face painter, and once she realised she loved and had a talent for face painting, quickly built up her face painting kit.  As with most professional face painters, she is always on the lookout for the latest products to stock up her ever growing kit.  Bethany also works for a kitchen design company… again, sticking to the creative industries.
Ali's other daughter Danni, is a brilliant artist in many mediums, and enjoys drawing and computer graphics.  She loves kids, and is a great team member.
From time to time we also employ other professional face painters within our Sunshine Coast and Brisbane network, and we also contract ourselves out to other businesses when required.
The gift of art and creativeness continues to be passed on down through our family from many, many generations back.  As you can see, our family enjoys the evolving art world, which no doubt will continue for years to come.
"I look forward to continuing my future in this wonderfully creative industry"
Lauren