Professional Face Painters on the Sunshine Coast & Brisbane
Looking for a professional face painter for your event or party on the Sunshine Coast? Looking to give your next event that wow factor?

Book a Cool Faces professional face painter today to make your next party or event the one everyone is talking about.
or call us on  0413 278 477
We have a unique professional style, which comes from our strong background in art training, and just loving anything arty!  Our face painters are friendly and professional, and have an eye for detail and colour.  Cool Faces are a hit at children's birthday parties and events, with the unique ability to match our works of art to what the guests are wearing or their level of patience, resulting in an awesome event, and great memories. We cover the Sunshine Coast and surrounding areas, including Gympie, Noosa, Sunshine Beach, Mooloolaba, Kawana, Caloundra…everywhere!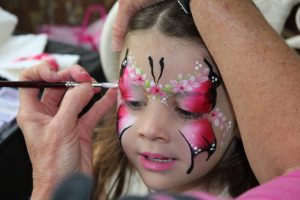 Enquire here about our face painting entertainment for your birthday party or next event.
ANY CELEBRATION …ANY EXCUSE !!!
Visit our gallery here.
We are experienced professional face painters on the Sunshine Coast and surrounding areas, we happy to travel anywhere in Australia, just call us for a quote. Looking for a face painter? We can do:
Kid's Birthday parties girls and boys
Big people's parties…what a hoot!
Wedding entertainment
Engagement parties
Theme parties and fancy dress
Corporate functions
Pubs
Clubs
Shopping centres
promotions
events
launches
outside broadcasts
fairs
Christmas parties
Easter parties
Halloween
>> Click here to send us your enquiry today, and we will get back to you with a quote.  Or call us on  0413 278 477
Check out our gallery here
GIVE YOUR NEXT EVENT THAT "WOW FACTOR"
We love to paint all sorts of things:
butterflies
tigers
fairies
spiderman
princess
flowers
frozen
batman
sugar skulls
pokemon
star wars
super heroes
the joker
…anything and everything ! We love a challenge!
Contact us for your face painter on the Sunshine Coast today!